Odoo + BaltFreight OÜ integration

Reg no: 11713370
· VAT: EE101317540
Kroodi 3a, 74114 Estonia
Seamless freight transport integration between Odoo and BaltFreight OÜ.

Calculate prices, ETD, ETA, CO2; create shipments, shipping labels, tracking links and branded notifications automatically.
Overview
Cargoson lets you send info between Odoo and BaltFreight OÜ automatically — no code required.
Using a TMS is the first step to optimizing your transport and logistics. It allows you to save time, money and CO2 emissions by having BaltFreight OÜ and all your other carriers on one dashboard.
If your company is using Odoo, you can take it a step further: skip the manual steps and automate the shipping process.
What you can automate
Pre-shipment
Use the sales/purchase orders data in Odoo to automatically create shipments in Cargoson
Display all available shipping options for a given order and let your users choose
Get a list of parcel lockers from different carriers
Communicate shipping needs between colleagues
Hand over the responsibility of comparing and choosing a transport option from third party users or purchase/sales managers to a logistician
Comparison
Calculate the transport price automatically from your price lists and receive it back to your Odoo software
Request spot prices from your carriers
Find the estimated lead times for transport or request estimations from carriers
Find the estimated transport CO2 emissions for each transport option
Compare carriers and different transport options for each shipment in Cargoson, your business software or any other system your company is using
Place a transport order to a carrier of your choice, through their preferred channel: directly into their system or by automated mail (see the carriers integrated with Cargoson)
Set up predefined rules to automate transport booking and let the software choose the carrier automatically
Post-shipment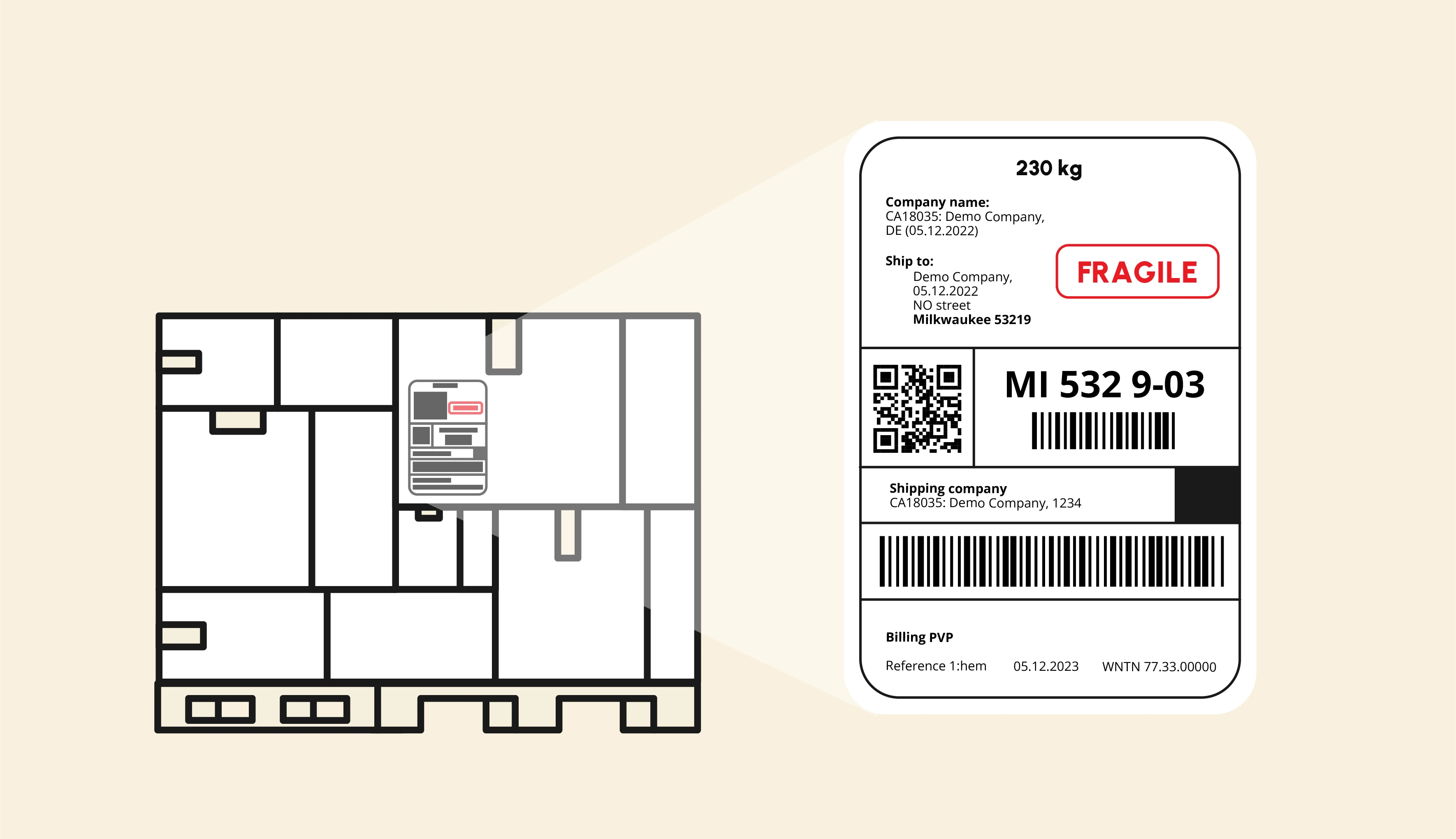 Send branded email transport notifications to your customers, colleagues and partners (labels, ETA, modifications, cancellations, licence plate numbers, documents etc)
Generate shipping labels, get them in your Odoo, and send them to relevant parties
Generate tracking links and receive them back to Odoo, and automatically update shipment statuses
Get daily reports about delayed shipments in your email inbox
Generate transport statistics and reports across all your carriers
Compare transport invoices with pre-calculated or pre-agreed amounts
Odoo TMS integration features
Transportation Price Requests
Transport price requests can be initiated on the following Odoo base documents:
Sales Order
Purchase Order
Quotation
Open the document and click on the Cargoson shipping menu.
Fill any missing data and press Price Request, after which different price offers will be displayed (including calculations from your personal price lists).
Transport orders
Transport orders can be sent to your carriers based on different documents in Odoo (same as for price requests):
Sales Order
Purchase Order
Quotation
The shipment data is copied from the document, but can be edited.
Packaging labels
After placing a transport order, package labels can be opened directly in your Odoo ERP.
e-Waybill
After placing a transport order, the e-Waybill can be opened and printed directly in Odoo.
CMR
After placing a transport order, the CMR can be opened and printed directly in Odoo.
Tracking
The shipment's tracking link will be saved in Odoo and can be opened by clicking on it.
Notifications
The shipment's loading contacts will be notified automatically of shipments and provided with information regarding tracking statuses, updated ETAs, delays, truck licence plates, cancellations etc.
Pricing
The Odoo + BaltFreight OÜ integration works with all Cargoson plans starting from Industry.
View detailed features and pricing plans
Industry
from 299€
/ mo
For wholesale and manufacturing
Corporation
from 499€
/ mo
For large corporations
Custom
Ask for price
We'll set up a custom solution for you
FAQ
We offer ongoing integration support and regular updates, ensuring that your Odoo and BaltFreight OÜ systems are always synced and up-to-date. APIs often undergo changes and updates, and it's our job to ensure that these changes don't disrupt your workflow. This means you can always benefit from the latest features and improvements from both Odoo and BaltFreight OÜ.
The BaltFreight OÜ and Odoo integration provides a comprehensive set of capabilities, including Transportation Price Requests, Transport orders, Packaging labels, e-Waybill, CMR, Tracking, Notifications. All of these data exchanges with BaltFreight OÜ are seamlessly integrated directly into your Odoo system, enhancing the overall functionality and convenience.
The integrations with carriers, just like the BaltFreight OÜ integration, are always developed and maintained in-house by our dedicated Cargoson team; these integrations are our utmost priority. For the connection between Cargoson and ERPs like Odoo, we typically rely on specialized third-party providers.

This strategy allows us to tap into the deep knowledge and expertise of those who specialize in specific ERP systems. While we are the developers of Cargoson and naturally handle all carrier API integrations in-house, we recognize that we can't be specialists in every ERP platform out there.

In addition, many of these ERP integrations are built in close cooperation with our existing customers. This ensures that they are not only thoroughly tested, but also designed to meet the practical requirements of real businesses in their day-to-day operations. This way, we guarantee robust, reliable, and efficient integrations for you to use.
Absolutely! Cargoson's architecture is built to be carrier-agnostic, meaning that it's capable of integrating with a wide range of carriers, not just BaltFreight OÜ. As long as the carrier has an API we can work with (or EDI, or even just email), you can incorporate their services into your Odoo system through our platform. Additionally, we're constantly expanding our roster of carrier integrations based on customer demand and market trends, so you'll always have a rich selection of carriers to choose from.
Integrating Odoo with BaltFreight OÜ using Cargoson is a straightforward process. Simply reach out to us at
support@cargoson.com
. Our team will walk you through the process, offer a demo if needed, and assist you with the installation of the plugin into Odoo. We'll also guide you on how to request and input the BaltFreight OÜ API keys into Cargoson.
Rest assured, data security is our top priority at Cargoson. Your BaltFreight OÜ API keys are securely encrypted in the Cargoson database. However, it's important to note that as your data originates from Odoo and then is sent to BaltFreight OÜ, we are not in full control over how these systems handle your data. Nevertheless, both Odoo and BaltFreight OÜ are trusted platforms with robust security measures in place.
Absolutely, the Odoo-BaltFreight OÜ integration supports all types of shipments: domestic, international, import, export, and cross-trade. The specific services depend on your chosen carrier(s), but we facilitate all freight modes: road, air, sea, rail, and all shipping modes: parcels, LTL and FTL freight shipping, and even parcel lockers.

BaltFreight OÜ offers the following services: Road.
Yes, we're open to discussing custom feature requests. Each case is unique, so we encourage you to reach out to us at
support@cargoson.com
. We might already have a solution for either the Odoo or the BaltFreight OÜ side that might cover your need. If not, and the feature would be beneficial for other businesses as well, it could potentially be added free of charge. However, for features specific to your business, we can agree on a development cost.
Integrating BaltFreight OÜ directly into Odoo through Cargoson simplifies your operations significantly. You can now manage transport orders directly inside Odoo, removing the need to log into various carrier systems including BaltFreight OÜ. Furthermore, it eliminates the necessity to access Cargoson for daily operations, providing a unified and simplified process. While some unique features like analytics or carrier chat may still require logging in to Cargoson, the integration generally minimizes daily tasks, enhances productivity, and reduces potential for errors.
Start using a transport management system with Odoo
Your time is valuable
If you use other carriers along with BaltFreight OÜ, we believe that using one system to work with all of them is the most efficient use of your time and resources.
Skip the manual work
Your contacts, orders and shipment data already exists in Odoo. Stop copying it to different carrier systems or sending it via email.
Instead, make use of it: integrate Odoo with Cargoson and your data will be exchanged with all of your carriers automatically! This will also avoid human errors.
Pick and choose which carriers you like
The carriers you want to use is your decision, not our business.
Cargoson is not a middleman or a forwarder, but your transportation management software.
Our carrier database is extensive, but you can add missing carriers by simply contacting Cargoson support.
All your carriers connected to Odoo
All your transport bookings could be placed the same way.
Simple API: One integration from your Odoo ERP will cover all your present and future carrier integrations.
Requesting a new carrier integration, in case we haven't built it yet, is free for all customers.
Track all of your shipments on one dashboard.
Adding, removing or switching carriers is quick and easy.
Branded notifications
All transport-related notifications to your partners, customers and coworkers are branded and look the same, regardless of the carrier you're using.
How to start shipping directly from Odoo
Get a demo to see how you can add the shipping module to Odoo. Then, select your carriers, upload your prices and other agreements with your carriers, invite your users and start shipping right away. See also: Configuring my carriers, price lists and users in Cargoson.
Schedule a demo