Transit Time Calculator — Road, Air, Sea Freight
This tool will estimate the transit times for your shipments (any carrier).
See how you can save hours on transport planning
Keep in mind that these are generic estimates and can vary greatly depending on the carrier and service you choose, as well as many other factors.

To use the freight transit time calculator, simply enter the origin and destination addresses along with load details. The tool will give you generic, estimated transit time estimates for road, air, sea, and rail transport (where available).
Our Free Freight Transit & Shipping Time Calculator
Use our free shipment transit time calculator to calculate ballpark lead time estimates for various freight modes (road, air, sea, rail) related to your shipment.
As a transportation management software, Cargoson is not a carrier or a 4PL and does not offer quotes or transport services. Our freight transit time calculator, powered by AI, provides generic average estimates across all carriers. Read more: What is Cargoson?
It's important to note that actual transit times may significantly differ from these estimates due to unpredictable factors such as holidays, customs procedures, and carrier-related issues. This tool is perfect in cases where you need quick estimates rather than precision.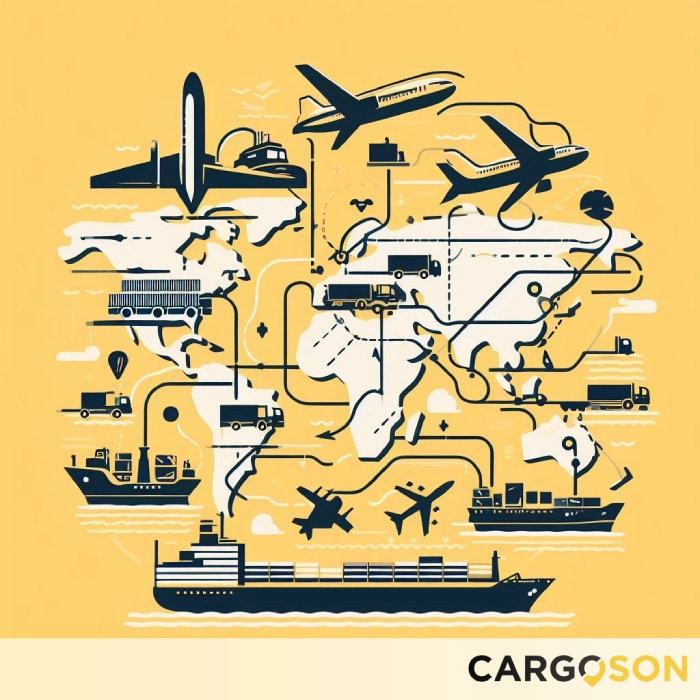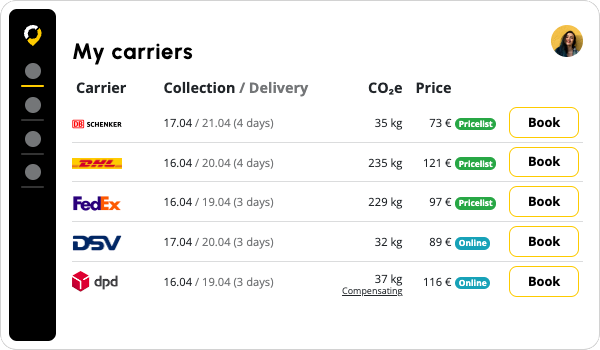 Instant & precise transit time estimates for all your carriers
View and compare transit time estimates for all your carriers and services right in your Cargoson dashboard to help you make quick transport decisions.
Want to assess carrier performance and compare KPIs? After your shipments are complete, you can also bulk-compare actual lead times against initial estimates across all your carriers, right within Cargoson.
Book a free consultation

Finding the right balance between cost-effective and high-quality transport service is an everyday balancing act in freight management. With the support of Cargoson TMS, we can find that balance by comparing the best prices with the most suitable transit schedules.
Merly Sepri-Eha
Head of VBH Estonia's Supply Chain
Read the full VBH story
Multi-Carrier Freight Transit Time API
The Cargoson transit time calculation is also available through a simple REST API.
You can input the shipment parameters and receive the estimated collection and delivery dates along with lead times via the API - for all your carriers, instantly.
The API also responds with transport prices calculated from your own personal pricelists.
Register an account & access the Transit Time API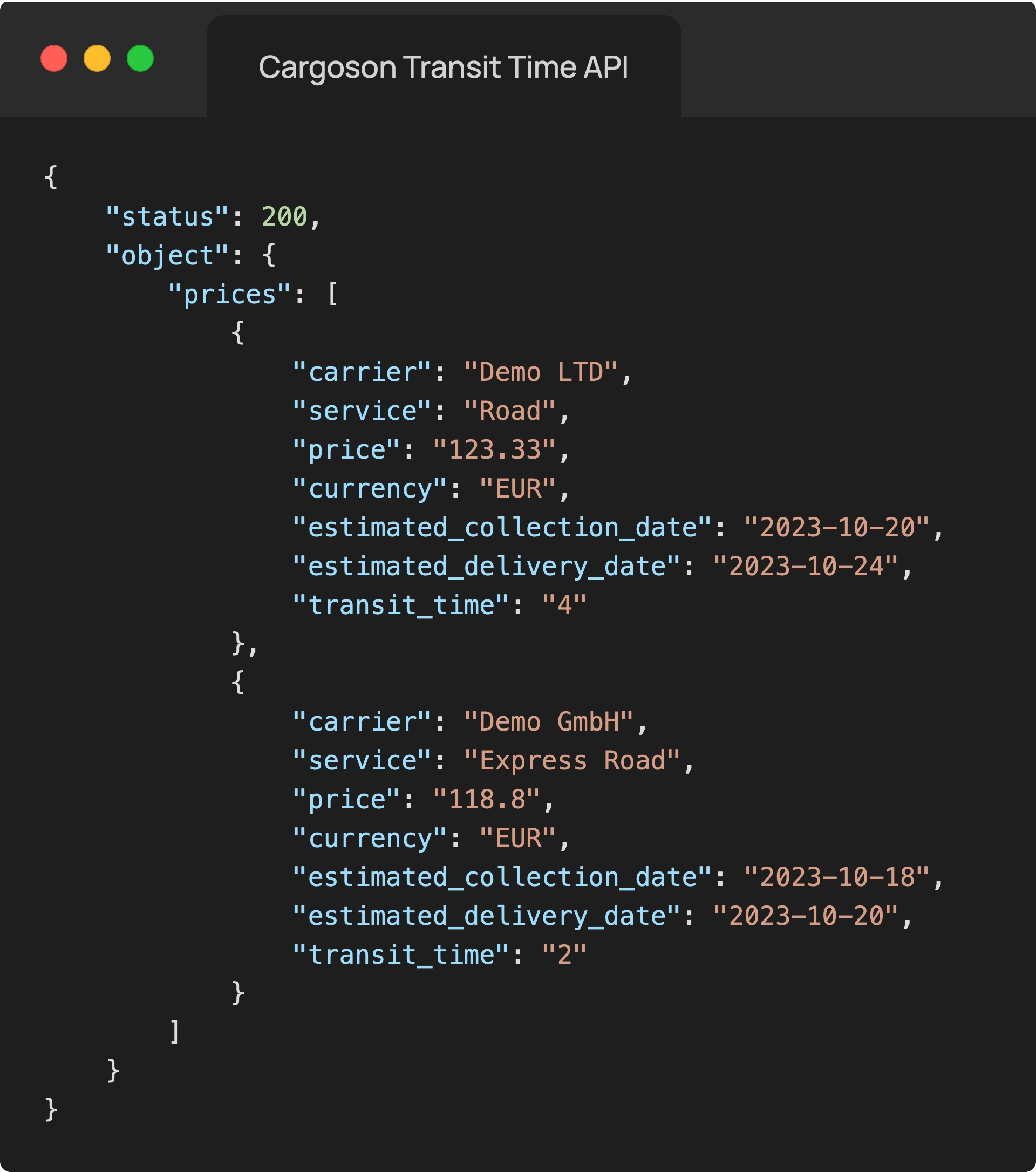 FAQ
Transit time refers to the duration it takes for your shipment to travel from its pickup point to its final destination. As shipping durations can fluctuate significantly, it's crucial to have this information handy before confirming any shipping arrangements.
The time your freight shipment takes to arrive can be influenced by several factors, including the shipping mode, distance, seasonal variations, and more. Here are some ballpark estimates: roadfreight shipping can take 1-7 days, seafreight between 20-60 days, airfreight 1-10 days, and railfreight 10-30 days. It's vital to account for variables like customs delays and adverse weather conditions when planning your shipment.
The duration for road freight shipping is often influenced by the distance between the origin and the destination, traffic conditions, size of goods being transported, and whether it's routed directly or through a distribution center. Typically, domestic road freight might take anywhere from a few hours to a few days. We estimate the maximum roadfreight lead time to be 7 days, since longer distances are typically covered with other modes like air, sea or rail.
Air freight is typically the quickest shipping mode, usually taking between 1-5 days. We estimate the maximum lead time to be 10 days. However, this can vary due to factors like flight schedules, customs clearance, distance between airports and last mile.
Sea freight shipping is generally the longest form of transport and can range from 14-60 days, depending on the distance between ports, sailing schedules and other factors like sea and weather conditions and customs procedures.
Generally, rail freight is faster than ocean freight but slower than air freight. Transit times can range from a few days to several weeks. For instance, shipping from China to Europe by rail takes approximately 10-20 days, saving you around 10-15 days compared to sea freight. On a generic estimate, rail freight typically takes about 50% of the time that sea freight does.
As of 2023, shipping has mostly recovered from the extreme delays experienced in previous years. Here are some rough estimates for average international transit times across different transport modes:
Road Freight: 1-7 days
Sea Freight: 20-60 days
Air Freight: 1-10 days
Rail Freight: 10-30 days
Freight shipping transit times can be influenced by many factors, each playing a crucial role in the final delivery date of your shipment. Here are some of the key elements that can impact transit time:
Carrier Choice: Different carriers have varying speeds, efficiencies, and reliabilities, affecting how quickly a shipment will arrive.
Service Level: Premium services often guarantee faster delivery times but come at a higher cost.
Space Availability: Limited space on the chosen transport vehicle can lead to delays.
Route Distance and Complexity: Longer and more complex routes typically result in longer transit times.
Routing: Shipments that go directly from source to destination are generally faster than those requiring multiple stops or warehouse storage.
Transshipments: Changing transport modes or vehicles can add extra time to the shipping process.
Schedules: Carrier schedules, including pick-up and delivery times, can influence the overall transit time.
Product Requirements: Special handling or storage needs for certain goods can affect speed.
Holidays and Weekends: Non-business days can add extra time to shipping duration.
Weather: Extreme weather conditions can cause delays due to impaired transport capabilities or safety concerns.
Customs: Delays in customs clearance can add unpredictability to transit times.
Geopolitics: Political climates, including trade restrictions or sanctions, can affect shipping times.
Traffic: Congestion, either on roads or at ports, can slow down transit.
Strikes: Labor strikes can halt or slow down shipping processes.
Accidents: Unforeseen incidents can disrupt the planned shipping timeline, causing delays.
Enter the origin and destination addresses along with the load information into the calculator. It will then provide estimated transit times for all shipping modes including road, air, sea, and rail. Keep in mind that these are general estimates and can vary greatly based on several factors.
The transit time estimates are cutoff-to-delivery. This means that the estimates include all events that take place after you place and order until the goods are delivered to their final destination. This makes it easier for you, since you likely care more about the time it takes to move goods from A to B, rather that an one isolated stage of the shipping process.
Our AI-powered tool considers a variety of factors like goods' specifications, route distance and complexity, likely transport vehicles, and historical data, among others.
While this tool doesn't provide real-time quotes, it uses AI that considers the following factors:
Goods: size, quantity, weight, packaging
Route: distance, complexity, mode availability
Routing: direct or via warehouse, transshipments
Likely transport vehicle: size/type affecting speed, load/unload times
Schedules, historical data
Collection date: weekends, holidays
Weather, customs, geopolitics, traffic, strikes
The tool provides estimates for road freight (LTL, FTL, parcels), air freight, sea freight (LCL, FCL), and rail freight.
Anyone needing to compare transit times across different freight modes and get a very generic idea of lead times will find this tool useful. However, it will never be 100% accurate without knowing the exact load, carrier, service, cut-off times and order times. These will be confirmed when you get a quote from a carrier or after you select a carrier and place a booking. To do this, you can register an account or request a demo.
While our free transit time calculator can be a handy tool for occasional use and for very generic estimates, we wouldn't recommend it to provide exact lead times to your customers, business partners or colleagues.
The tool produces general, average ETAs that can be subject to wide variations due to factors like carrier selection, service level, and external conditions such as weather and traffic.
For more accurate and reliable estimates, we recommend using a multi-carrier transportation management software. This allows you to input your specific agreements with various carriers and request real-time quotes. By doing so, you'll receive the most accurate ETAs and benefit from timely updates should any changes occur. The software even sends automatic shipment notifications (including ETA updates) for all relevant parties, so you don't have to worry about doing it manually.
Yes! If you are using a transportation management system like Cargoson, you can request freight prices based on your own agreements or spot quotes along with transit times via API. This covers all your carriers and all their services.